World Class
Parachute Manufacturers
for
Drones | UAV
Rockets | Research
and more...
Fruity Chutes manufactures premium quality parachutes for Aerospace | Consumers | Institutional
University | Corporate customers who demand exceptional quality, have exacting requirements and expect outstanding service. Since 2007, our parachutes have established a reputable performance history for exceptional, dependable performance in unmanned applications employing Drones | Multicopters | Unmanned Air Vehicles (UAV)
Rocketry | RC Aircraft | Balloon Research Our customers include major US corporate and government customers such as NASA, Boeing, AAI Textron, SpaceX, Google, MIT, US Armed Forces, Zipline, Matternet, Silent Falcon, Quest UAV and many more. Our parachutes have been used by Over 4,000 Customers in Over 50 Countries and on
Every Continent on the Earth
We have a huge product line of over 200 parachute models. This is split between four parachute product lines optimized for different uses, such as rocketry, drones and more. Along with parachutes, we have over 150 accessory items, including harnesses, shock cords and other hardware. For drones, we have special drone parachutes and parachute launchers. We've also made product selection faster by curating easy-to-understand, bundled packages designed for specific application groups including Drone Parachutes | Fixed Wing UAV Parachutes
Ballistic Parachute Recovery Systems and more. We've done the hard work; all you need to do is choose a single item to solve your parachute recovery needs!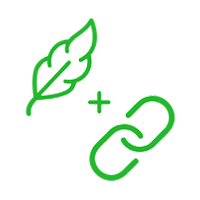 Lightweight
& Strong
We use custom ripstop nylon as well as premium bridle, shroud line, shock cord and reinforcement materials to achieve the maximum ratio of strength to weight and packing volume.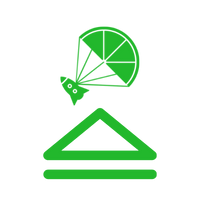 Auto & Manual
Deployment
Use the SATS-MINI to both manually deploy and automatically detect failure and actuate deployment. Additionally, all of our launchers allow the user to connect their own trigger system.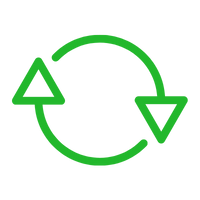 Reusable &
Easy Repacking
We use high quality materials to ensure long-term durability, giving our parachutes a product lifetime of over 100 deployments. Bonus: the user can easily repack the parachutes without sending them back.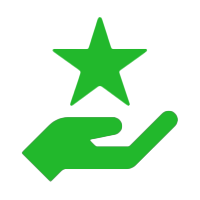 Experience
Trust | Honesty
With over 15 years of experience, we prioritize transparency and customer satisfaction in all that we do.
Expansive Product Line
Solutions for countless applications: multirotor, fixed wing, VTOL, rocketry, research, and more. Our parachutes, launching systems and accessories are adaptable to a wide range of UAS ventures. If you have questions about the best solution for your project, don't hesitate to contact us.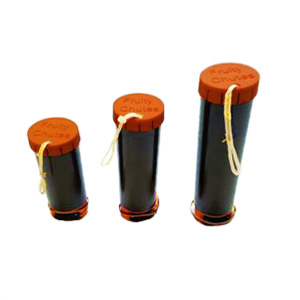 Harrier Drone Parachutes
The Harrier Drone Parachute Launcher raises the bar for low cost, lightweight, easy to use, efficient, and cost effective spring actuated parachute launchers. No other drone parachute launcher compares to the Harrier!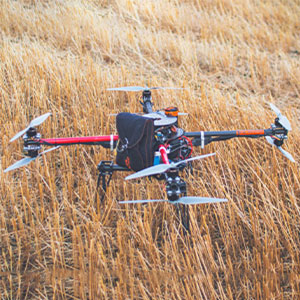 Skycat Drone Parachutes
These bundles combine our Iris Ultra Light parachutes with a Harrier or Skycat spring-based parachute launcher for drones up to 12.8kg. The systems are lightweight, strong and will exhibit high performance when compared to the drone's weight. These systems have no shipping restrictions and can be shipped worldwide.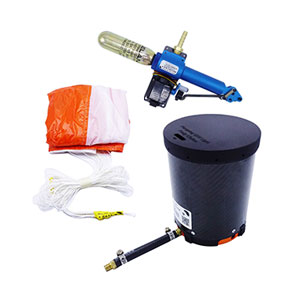 Ballistic Parachute
Deployment Systems
We have a full range ballistic parachute deployment systems to choose from. The Peregrine UAV Light uses a small CO2 cartridge to deploy the parachute out and away from the UAV. The system shown uses the 120" IFC-120-SULR parachute, is rated at a full 20kg, and weighs just over 1kg.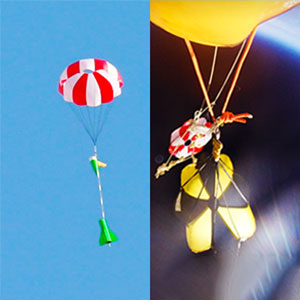 Rocketry & Research
Parachutes
Our Classic Elliptical parachute is available in sizes from 12" up to 120". For rockets where space is at a premium, we have the Iris Ultra parachute from 30" up to 240" (20 feet). The unique toroidal design results in a coefficient of drag (Cd) of 2.2 or higher! This means you can use a smaller, lighter parachute for a given recovery weight.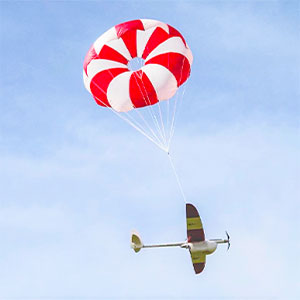 Fixed Wing Parachutes
The Iris Ultra parachute with Spectra lines provides unmatched performance relative to weight. We provide Fixed Wing Recovery Bundles with everything you need for a quick and easy set up.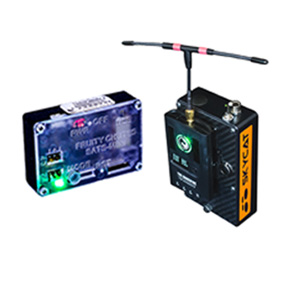 Drone Electronics
Specialized for the drone and UAV market, our drone electronics include automatic trigger systems, manual ejection radios and trigger units, LiPo batteries, balance chargers, adapters and more.