Ultimate Parachute System for all Drones, Multicopters and UAS
Fruity Chutes is a world leader in the manufacture of recovery systems for UAV (unmanned air vehicles), RC, Quadcopter, and Drone parachute recovery.  We provide recovery systems to many of the leading aerospace manufactures including NASA, Space X, AAI Textron, Quest UAV, Aeromao, and may more.  Many US, and international aerospace companies are working with our products now integrating them into there UAS products.  We also sell our chutes to other Drone recovery system manufactures such as Rebel Space, Skycat and more.  Our top priority is to work with UAS manufactures and to help provide them with our world class recovery products.
This section will help you choose the optimal products for you UAV systems.  To help make product selection easier we have created convenient Drone and UAV Recovery Bundles in our Webstore.  We have several types:
You choose the particular product by weight.  Buy one bundled and get everything you need to recover your UAV or Drone!
New!  Not sure how to use Parachutes to recover your UAS?  Read our UAS Parachute Recovery Tutorial!
Q - Why are our products the best available for UAS manufacturers?
A - Iris Ultra Parachutes - the ultimate in performance!
Our Iris Ultra annular chutes are ideal for all types of UAV recovery. They can be used for primary recovery, or as backup rescue parachutes. We offer a "Ultra Compact" versions using Spectra lines which features lighter weight materials lowering the packing volume and weight by as much as 35% over the standard all nylon version.  The Ultra Compact design is ideal for all types UAS recovery products.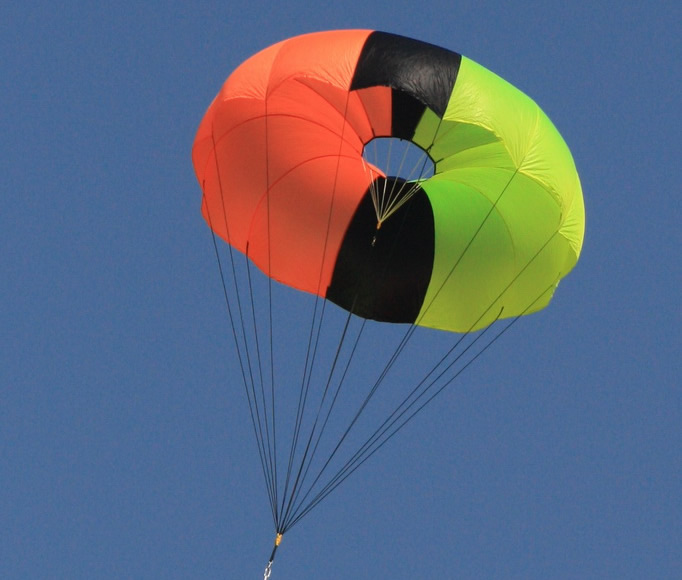 Iris Ultra chutes feature a toroidal shape which results in a Cd (Coefficent of Drag) of at least 2.2, meaning a smaller parachute can do the work of a much larger traditional parachute.  Iris Ultra UAV parachutes feature:
Lightweight 1.1oz Mil-spec calendared rip-stop nylon - parachutes are compact and lightweight
Annular design (Toroidal ), optimal for high drag and minimum material and weight

 

UAV parachutes are trimmed with light weight Spectra risers to lower weight and volume 
Include a top loop for use with deployment bags
Your choice of colors colors, or order stock parachutes for fast delivery
Many sizes available, so choosing the right size for your UAS weight
Choosing the right size parachute 
There are many considerations that must be weighed in order to choose the right size chute. Your space available, weight impact, deployment method and more. The target descent speed plays a big role in choosing the chute size. We have found that most UAV designers like to use a bit lower descent speed than rockets might use - typically around 15fps (4.6m/s). To assist in product selection we have prepared a white paper you can download that describes the process and gives several examples:
To help determine the ideal size parachute you need to know the weight of your UAV, and your target descent speed. Then use our Descent Speed Calculator to determine the proper size.
Recovery Examples:
Below are some Youtube videos showing some examples of how our parachutes can be deployed - simple!
Other Usefull Links: