Parachute Manufacturer for Drones, Rockets, UAV, Resarch
We are a manufacturer of premium quality parachutes for Aerospace, Consumers, Institutional, University and Corporate customers who demand exceptional quality, have exacting requirements and expect exceptional service. Our parachutes are used for all types of Rocketry, Rescue chutes for Unmanned Air Vehicles (UAV), Multirotor, Multicopter, Drones and RC Control Aircraft Recovery, and Balloon Research. They have been featured on major motion pictures and on science TV programming. Most of our products can be ordered from stock. Or we can make you exactly what you want - you choose the size, colors as well as many other options. All our product is 100% US made from US materials.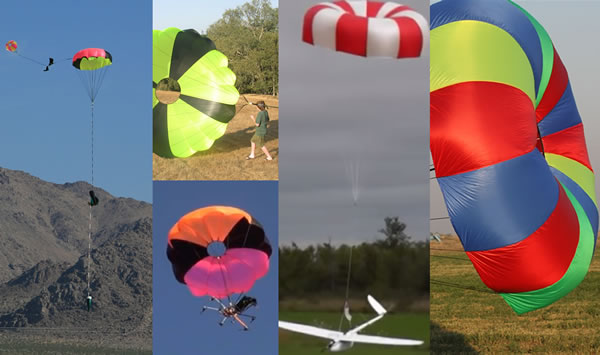 What's new at Fruity Chutes...
Note - We will be out on vacation these dates: August 5 - August 9. There will be no shipping these days and
email and other communication may be slow. Please plan accordingly!
The Skycat Parachute Launcher is ideal for smaller Multicopters up to 6.8Kg weight.
Earn $10 Fruity Chutes store credit by participating in our Parachute Safety Survey!
Drone and UAV Recovery System Bundles - Buy a complete recovery solution for your UAV by ordering a single item! Takes the guess work out of your purchase.
See the Peregrine CO2 Ejection System. Ready for purchase NOW!
We just did a mojor update to the Peregrine IDS (Integrated CO2 Deployment System) pages. The Peregrine IDS is a fully integrated CO2 deployment system ideal for all types a UAV, Drone, Multicopter recovery. Buy them now from our webstore.
We have added the Peregrine IDS Users Guide.
In stock products ship quickly. Electronics and stock items ship the next Tuesday or Friday. Thank you for your patience!
See the Iris Ultra Annular Parachute (aka Pull Down Apex Parachute) with a Cd of over 2.2!
Learn how to fold the Iris Ultra Chutes! It is not the same as our elliptical chutes.
Considering Fruity Chutes for your project?
See who else chose us - you're in good company!
Download our Descent Rate Calculator - size your chute exactly!
SUPPORT OUR COUNTRY

OVER 98% US MATERIALS

100% US LABOR
Read our Extreme Rocketry Review
Learn more about our:
Recovery Products -

These products can be used for a wide array of recovery needs

UAV, UAS, Drone Products - About how our great rocketry products can also be used for Drone, UAV's and UAS systems
Leave us feedback on our Customer Feedback page
We have reorganized our Help pages with much more to come!
See our Fun Stuff page
I started a Blog of other activities and useful tips.
---
"As a former member of the US Parachute Team, and as a FAA Licensed Senior Parachute Rigger, I am exceptionally picky about parachutes. The Fruity Chutes are not only made to manned parachute quality, but offer amazing efficiency - which is why they're the only parachutes in my rockets!"
February 9, 2015 - James Flenner, FAA licensed Senior Parachute Rigger, former member US Parachute Team, TRA L3​
"Thought I would send you some feedback about the fruity chute I received and have flown about half dozen times now. In a nutshell, the
chute is really great and I am very pleased with its performance. I particularly like the thin fabric which packs great into a small compartment (2.5" dia.)."
February 9, 2015 - Richard Nakka, Author of Richard Nakka's Experimental Rocketry Web Site
"Hi Gene, Just wanted to let you know that I got the parachutes today and I must say…WOW! I am impressed! I expected that they would be nice; I had no idea that they would be THIS nice! I am way more than just pleased and thought you should know!"
March 2012, Camron Tinder - TRA #12403, NRA #89153
"Gene - Got the new 72" Iris Ultra chute today and it's just killer. 361 grams packs into 7 inches of 4" tube. Excellent."
June 2011, Paul Bogdanich - TRA# 11654, NAR 88775
"Wanted to pass on that I received my chutes from the previous order. They are not only gorgeous but the craftsmanship is absolutely top of the line. They exceed my expectations for both quality and value."
John P. Metcalf - TRA# 13081

"I just received them. They look FABULOUS...well worth the wait. Compliment your wife for me for the great sewing..."

Ronnie Dreyer - TRA# 12262, NAR# 88826
YouTube Videos:
Alan's 144" Chute in action on a windy day

Slow motion deployment from Eric Ebert's Arless Rocket - 2011 XPRS

144" Fruity Chute Kite Surfing - Team Hawaii